Check out the new Affiliate Program: Web Talk! Watch "SocialCPX by Webtalk Intro" by @webtalkdotco, below, or on #Vimeo https://vimeo.com/149094771.
This new social media network is similar to both Facebook and LinkedIn combined, but better! It allows you to keep all of your information in one place, but allows you to segregate your contacts according to whether they are business or personal – thus providing you the control you need over your information and what is actually shared. Check out the features in this quick little video:
For the slide show, click here: WebTalk slideshow, or you may visit this landing page: Webtalk News Landing Page to read more.
One MAJOR difference between WebTalk and the other social media networks is that WebTalk is offering to share its revenue with its users, at least for the next one million members (at the time of this writing). This is why it is imperative for you to join now, even if you join the Free membership. All members are able to accrue credits just from being social and doing all the things you normally do on Facebook, LinkedIn, Twitter, etc. So, just by sharing, liking, commenting, and posting, you will earn money that is paid monthly, and you will earn money from referrals as well – five levels deep. So, for instance, if you join and refer one friend (2) who refers a friend (3) who refers a friend (4) and refers another friend (5), you'll be paid for all 5 levels – for life. How cool is that?
If you're the "doubting Thomas" type, here's a video that was recently shared by one of our members, John Burbage, who is explaining his May, 2020 Ad Share revenue.
In the future, WebTalk is planning to add other revenue streams that will add even more money in member's pockets. Here's a snapshot: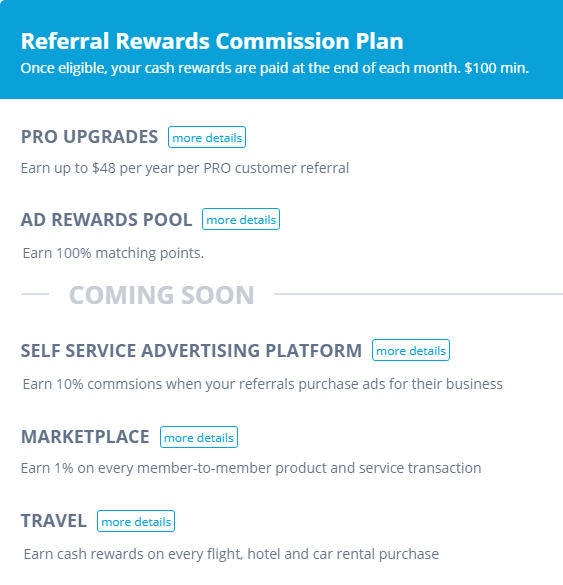 As mentioned, the ability to be paid for your referrals is only open for a limited time. Here's an excerpt from the Member Agreement:
"This Bonus offering will end upon 1 MILLION (1,000,000) Affiliates upgrading their Webtalk accounts to a PRO account and/or referring a minimum of ONE (1) PRO service customer (any PRO package with a minimum of 12-months of revenue collected from each customer, including annual pre-payments of the PRO service)."

Affiliate Agreement, Webtalk Feb., 2020
See where it states "and/or?" That means that you can be a free member who has referred one paying member, or – you can be your own paying member, currently $100 for the year, in order for you to qualify for revenue share. If joining for free, just make sure you sign the Affiliate Agreement in order to be paid, and payments go out once a month.
Currently, this offer is by invitation only. And, as of April 29th, 2020, free members are able to participate in the revenue share.
For those interested in the earning power of WebTalk, you can visit the Affiliate Earnings Page. For even more info, visit my page: Ms. Money Honey at WebTalk. There is another cool new video, link in the middle of that page, along with the Free Sign Up section.
So, if you'd like to be paid for doing what you normally do on Facebook, LinkedIn, Twitter, and the like, but would enjoy being paid for being social, join us!
Thank you for your visit, and I hope to see you over at Web Talk!